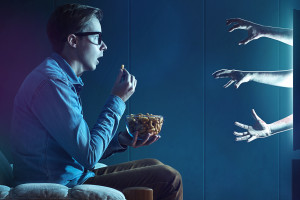 Hollywood Verses God identifies some of the evils associated with the crowd in Hollywood. Moreover; this post by MasterBlogger1 reminds us that the battle for family-friendly programming remains. Clearly; one of the gravest threats to America's families is the influence of this evil empire. Hollywood versus God and the traditional family is a post of importance in these last days. Yes, as the return of Christ draws near, it's imperative that we protect our families. Furthermore; creating a hedge from Hollywood's heathens is an expression of love for our loved ones.
Our families are under constant attack from all forms of evil sun-up to sundown on a daily basis. Therefore; It's crucial that we provide safe havens where the effects of the world are minimal. We would be hard-pressed to find an evil agenda more influential than the ban of thieves in Hollywood. Indeed; God-fearing Americans need to limit their exposure to television. Thus; providing safe and neutral spaces, and places of refuge is a necessity in a world gone bonkers.
Create An Oasis To Unplug From The World
We can significantly minimize the noise of the world by creating an oasis, that is food for the soul. Indeed; stating that watching television can be addicting is an understatement. And with that said, how can any addiction have its origins from God? Clearly; among other things, an obsession is a distraction that takes our focus off of God. And if our focus is elsewhere regularly, there's no doubt that we often replace him with Satan's distractions.

Most Christians are well aware that the evil one has set many snares to entrap God's people. Remember; we are to be the salt of the earth. Please consider; Matthew 5:13 "Ye are the salt of the earth: but if the salt have lost his savour, wherewith shall it be salted? it is thenceforth good for nothing, but to be cast out, and to be trodden under foot of men." So; if we succumb to Hollywoods agenda to water down our saltiness, we will lose our favor with God. Furthermore; we would be surrendering our ability to witness to a dying word headed for destruction.
 
Hollywood Verses God – Don't Surrender To This World
Hollywood versus God is a post to remind us that we are to be in this world, but not of it. Indeed; it is so easy to lose sight of this as Christians. Precisely; this is due to the influences of Hollywood, which is a favored tool of Satan to seduce us into complacency.

See [VIDEO PLAY LIST] for MasterBlogger1's book "Devil In The People's House below.
Would you like to read the post; "Satan Agenda For Man"? [Click Here]
Home page for "Devil In The People's House" by MasterBlogger1 [Click Here]
1,543 total views, 2 views today